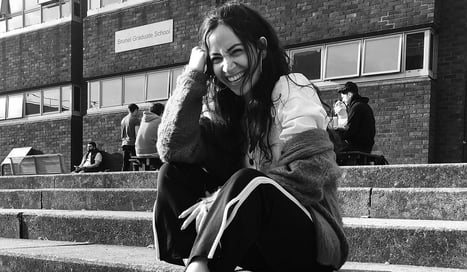 Randa Dibaje
Tell us about your role.
I work in the XR team at Price Waterhouse Cooper – and I am a developer for them. My role encompasses everything from 3D, VR, 360 filming, building CGI environments, web AR and much more. I love that I get to put the creative side of me into the technical work that I'm doing, which is something that I really appreciate in this job.
Why did you decide to work in this space?
While I was at university, we came across VR and AR. It wasn't really practical, but we were working with Unity, and I realized the potential of it. I made a game that was more informative than for fun – it was about health and learning about your heart rate and other things – and a music visualiser experience when you go through all these different worlds, and you have 10 songs to pick from, and the entire environment reacts to the music. The whole point was for me to experiment with what you can do with Unity outside of games. I saw the benefits it could have in the medical field – most of my family are doctors, and it could be a good tool to improve people's training – in the engineering field and so much else. And I just thought – "I really, really want to be part of this."
At first I was a bit stuck, because it was like, you look for jobs, and so many were with games companies. I found it difficult – a lot of the jobs were with games companies, and they were expecting you to be a pro-gamer. I knew that I didn't belong to the games industry, but I knew I belonged somewhere else.
I had a mentor at the time and she really helped me to get myself out there, get comfortable in saying that I wanted to do VR and AR but not specifically in the games.
"You might constantly think that you have all these negatives, but every negative can definitely be turned into a positive."
Mentors are so important. How else has she helped you?
During my Masters I started off really not confident at all. I had come from a software engineering background, which I really struggled with because I wasn't able to put my creative side into my work. She pushed me to flourish and she always told me, "don't allow your insecurities to get in the way." And honestly, I always think this is really important to say – mentorship is so important. Everyone should have one. Because sometimes there are things you don't notice that you're doing – for example, you might constantly think that you have all these negatives, but every negative can definitely be turned into a positive.
When I found my current role online and applied, I really didn't think I was the right person. They needed three years of experience. But a recruiter and my mentor helped me see - sometimes when you see a role and it says you need three years experience, but you don't have it - you can still apply for it. Sometimes, they see that you believe in yourself, that you can do it. My mentor said – "you just have to apply for it because you have nothing to lose."
There is definitely a stereotype of people who work in this field. Too often I go to a company page and see their team and they are all white or all men. I was interviewed by three men for a role before - and I really felt like I couldn't belong. But I do want to show women that they can do this. Before this job role, I was doing a bit of teaching at the University, and to be honest, most of the time, I wasn't actually teaching, I was just telling girls that they can do it, they shouldn't be afraid.
I come from the Middle East and I'm a young girl going into it. I'm not a gamer, I'm not always in front of a computer. I have other hobbies outside of VR and my job. I like photography, I like reading books. So you can be like this and still work in this field.
What do you love most about your role?
The power of VR is amazing – you can actually put someone in someone else's shoes, you can make them feel like they are actually in that environment. When you have the skills, you can literally create whatever you want. Whatever imagination you have, you can make it real and give people the chance to experience the world you built.
3D music visualiser experience by Randa
What is the most challenging thing about it?
When I came into this role, I didn't actually know much about VR – I only had experience in Unity. So it was all learning on the job. Initially, I was beating myself up for it – I thought, "Oh, I should know this by now." But after a few months I realised that it's very normal – technology changes so quickly that you're always having to learn new things.
One of the most challenging things is working with clients who don't quite understand the technology – they want something that is impossible because the tech isn't there yet. We try and meet their needs as much as we can. So we try new things, things we haven't seen or done before. And I've been amazed at how many times we've actually done stuff that probably no one would ever do – you can always find a workaround!
Who are your closest collaborators at work?
We have a strategy team – they work mainly with the clients, and I get pulled in to talk about the technical side of things. There's a lot of consultation that goes on. And then there's my operations delivery manager, who I work with almost every day. And there is usually another developer - and then three people on placements. I'm helping them learn Unity and VR. Every day my job is quite different! There are days where I'm working on projects on my computer, days when we are out shooting 360 film with a production team and other days when I'm planning all day. It's very mixed.
"Understand that you may get confidence wobbles – imposter syndrome will be there – but you were given your role for a reason, it's because you're willing to learn and you can learn things and that's what matters most."
You mentioned that you love that you get to be creative as well as technical – tell us about that.
VR developer is a very techie role, but at the same time, everything is visual. You need to make sure that the experience works – but also there has to be a visual appeal.
Recently, we had to build CGI environments that were as close to real as possible, so that the user felt like they were really there. That's where my most creative skills come in. Sometimes I find myself going into a space, and just walking around and looking at what makes it so unique so that I can bring that same. It's how I make rooms so realistic in a VR world. And we don't tend to create avatars, because most of the characters need to have emotions and we need to see their facial expressions properly, and so there are a lot of 360 video projects or more recently we used a new technology called volumetric video to capture characters but that's a story for another day.
I also work with a lot of 360 videos, and so it helps that I have some skill in that too. I also get other opportunities with my job such as filming behind-the-scenes footage for production sets that we have.
And every time I take on a project, I try to see how I can improve the UI too. I want people to be in my experience and it to feel very seamless, for them to see how much thought has gone into it.
There are so many skills required for your role? What are the most important ones?
The core skills are obviously Unity and C#. And understanding how things like VR and AR work. Compositing 360 videos is really, really important too – removing unwanted things from a video, colour correction, being able to stitch things together properly. We have this camera called Insta360 Titan, which has about eight different lenses, and you have to make sure that the stitch lines don't appear in the experience.
What's next for you?
Honestly, at the moment, I love my job, I don't see myself leaving. I'm really thriving in this role. But I do have this vision for myself where, maybe further down the line, I want to create a company that works with Art and immersive technology. I see myself working with creative artists, and creative technical people and putting all their ideas together as exhibitions in museums all around the world.
What advice would you give to someone starting their career in 3D?
My advice is, don't be too overwhelmed by everything. Things will fall into place eventually, and you'll find your place in the team or in the role. When I started my job there were so many things I didn't understand - what should I be focusing on, for example. Don't be afraid to ask questions, even if you feel like you might be intimidated by some people around you because they might have more experience than you do. It's far better to ask than to leave it and then have the team be behind on a project. And understand that you may get confidence wobbles – imposter syndrome will be there – but you were given your role for a reason, it's because you're willing to learn and you can learn things and that's what matters most.
You can see more of Randa's work at randadibaje.com
Follow her on Twitter @randa_dibaje and on Instagram @randadibaje