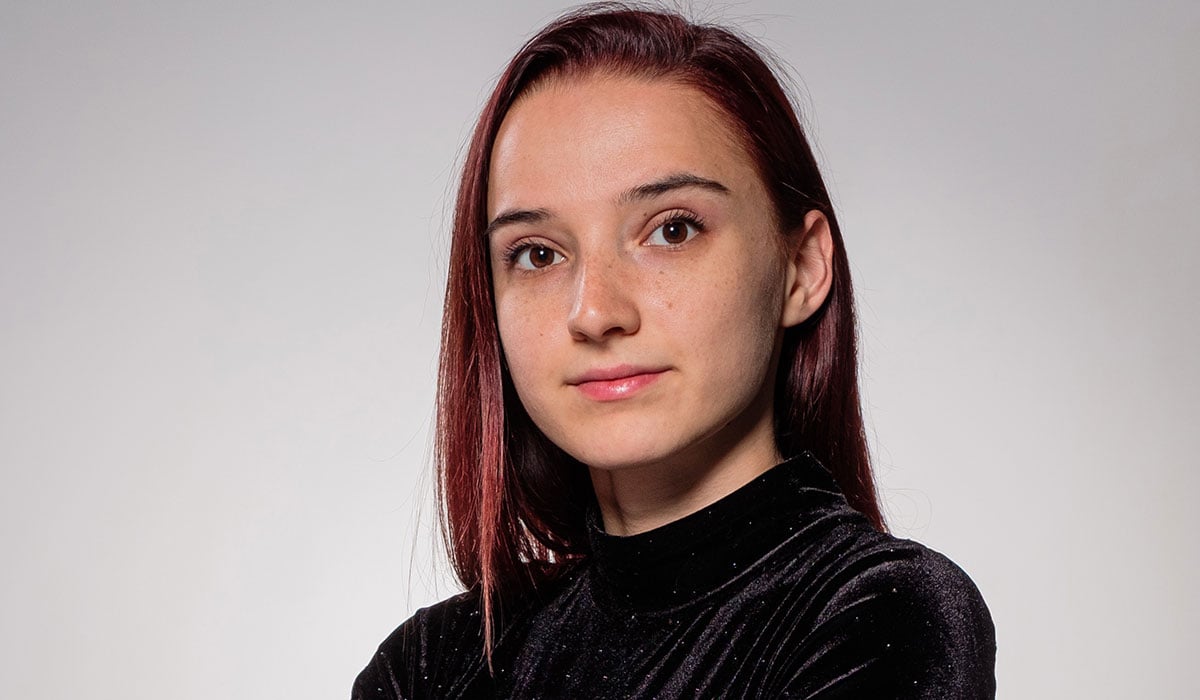 Radina Vasileva
Tell us what you do.
I'm the Unity developer at Immersionn. As well as that, I build 3D models, I support the art director, I assist with research- we're a small team and we're always there to help each other. But my main focus is Unity and 3D modeling. I'm not yet a programmer – I'm interested in that – but we have a team who support us with that.
Who are your closest collaborators?
Alexandra the CEO, she's my mentor as well. Laetita, our art director, and the project manager for whatever project that we're working on at that moment. We all do daily meetings in the morning, show each other what we did the previous day and what we're planning to do today.
The beauty of working in this particular startup is our culture. I get to be involved in so many key meetings. When you see a client's reaction to your work, it gives you a clear picture of your work and whether you are going in the right direction or not! As an artist I love to see their faces and feel their emotion - it's better than when Alex and Laetita simply share feedback with me.
"There is time to learn more and there are a lot of people out there willing to support you if you really want to become something."
What do you love most about what you do?
VR is a combination of art and science, and that's what I love. I did art at high school, then I switched to maths and science and programming. I loved both and so was very confused about which master's degree is the best option for me. My first degree was animation, but then I found VR and realised I could use both my knowledge from art school and my science and programming head. For animations, 3D models, for VFX, you always need both, you always need the art and the science.
I went to the LCC Open Days and booked both course presentations: MA Film and MA Virtual Reality. I wanted to be a film director. Back then I knew why but now I feel so much in love with VR and new technology that I don't remember the answer to this question. In the end, I had to choose which course I wanted to do and with no doubts I chose VR. Back then it was the first VR course in the world, the labs were already fully equipped, the staff was very supportive. Even though I had a basic understanding of what VR is and it was very challenging for someone who had never touched a 3D platform before, I knew I belonged there.
How did you get from your masters to your job with Immersionn?
I did a surgery simulation for my final project and the director of the school invited me to present it at a panel which was part of an exhibition the university was involved with. I said yes and booked a flight from Bulgaria to the UK just for that presentation. I was told a million times not to do this project because it will be presented on the Final Degree Show and I will fail to finish it on time and will have nothing to present.
After the presentation, I had to run to the creative lab where I had my project installed to share it with other people. At the same time, there was a projection of our projects on the wall. My best friend worked there, and she messaged me, "Did you bring cards? There is an awesome lady who liked your talk. She was super nice! Work with her!". I never made it to see her, but the woman left me her LinkedIn details and asked me to get in touch.
I gave out 50 business cards on the day of the Final Degree Show and no one called or emailed me or anything. And so I didn't hold as much hope for the woman who left her detail. But a few days later I got in touch and we met for coffee. And the woman - who is now my boss, Alex - gave me a really great vibe. She told me all about the vision for Immersionn and immediately I wanted to work with her.
Virtual Surgeon VR experience created by Radina
What are the things you need to be able to do your job well?
First, never be scared to ask questions. If I have to do something and I struggle for about an hour, after reaching that point I get straight on to a call or an email and ask. It's not just a waste of my time if I get stuck - it's a waste of everyone's time. I know the team counts on me having done things. I can't just show up to a meeting saying "I couldn't do my job because I didn't ask".
I think you need to be able to focus on solutions, not on problems. And think outside of the box too. If I hadn't thought like this I don't think that I would have been able to fix more than 50% of the issues that I have with our last project.
I see two types of Unity developers - you can be an expert in Unity and a 3D modeler, or an expert in Unity and a programmer. If you decide as a developer to focus on, for example, 3D modeling, it doesn't mean that you should never touch programming, and respectively for programmers and 3D modeling. I would say - be good at one of them and have a general understanding of the other. I've seen people in their 20s who introduced themselves as a Unity developer - they know a bit of 3D, a bit of programming, a bit of graphic design, but those skills are a good starting point and now it's time to decide which one will be mastered. Noone needs someone who knows a bit of everything. You either become good at something and then you add more to your knowledge, or you just waste your time. My generation, and of course I recognise this in me as well, tries to learn everything at once and if possible this must happen immediately. I learnt this at Immersionn: have patience. There is time to learn more and there are a lot of people out there willing to support you if you really want to become something.
What does the future look like for you?
At the moment I'm focused on Immersionn, that's my priority. In the long-term, I want to work with surgeons and university hospitals. My main goal in my career is to be involved in the creation and professional development of the 'future' student. I want to train medical students in risk-free environments on how to perform a surgery. Imagine you want to be a heart surgeon? Well, then you need to only operate on people with heart problems. But what if there are another 100 students wanting to do the same? How many heart patients might you have with this issue in your residency year? But if you have VR, you can perform whichever surgery you want at any time. It's incredible.
Follow Radina on LinkedIn and on Instagram.
Read more about Immersionn at immersionn.com