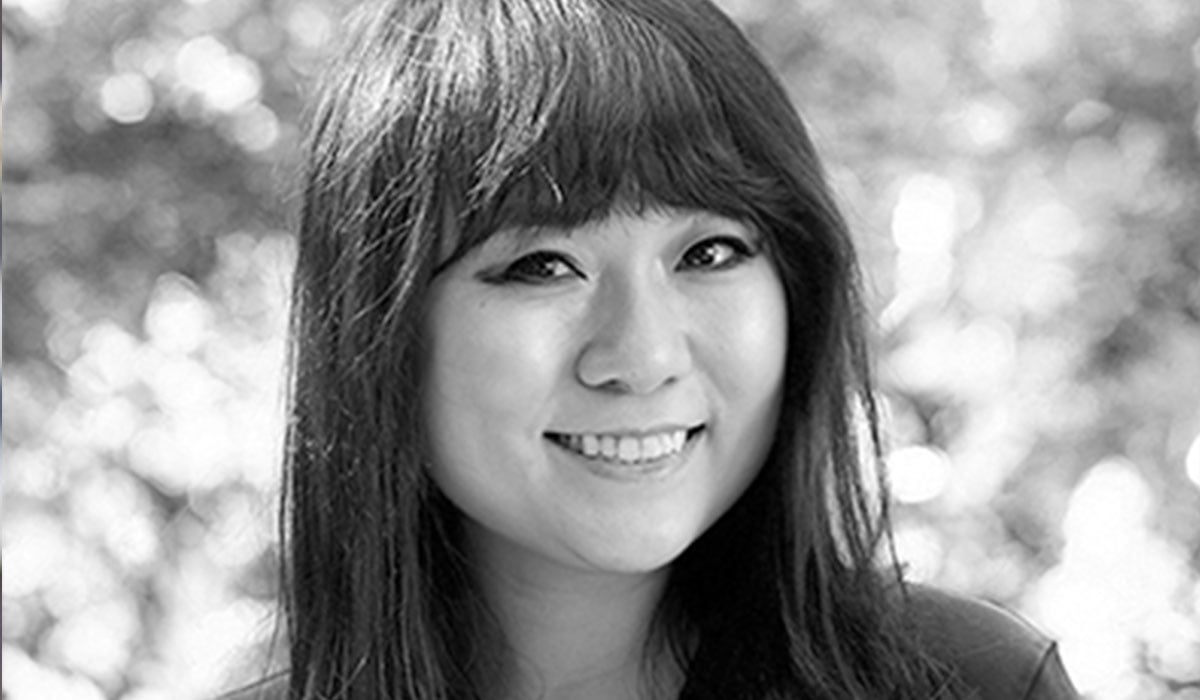 Mengyi Fan
Tell us about what you do!
I work at SHoP Architects, an architecture office based in New York City, and I run the visualisation team.
What my job really entails is taking care of both in-house and outsourcing visuals, so anything that we're showing for marketing, or sometimes for internal development purposes would go through me and my team. That includes all the renderings that you would see in the press, but also things like city planning submissions. Then we're also developing all these new technologies and taking advantage of it all. So, a lot of it is also visual research and development, which is the coolest part.
We work really closely with the design teams in-house to help them really realize their vision. So, a lot of it is "I have this crazy idea in my head, and I can put this in a technical drawing, can you make this into something that is conveyed in a form that a lot of people can understand without necessarily being architects, or designers, or engineers?" Our job is to make something that is a little bit more democratic in its representation and the audience that it's reaching.
Who are your closest collaborators?
The office is mostly architects - designing, planning, and drawing in 3D. And then we have these additional teams who support them - like my team, marketing, photographers, as well as the interactive visualisation group. They create visuals that help convey how buildings are put together, rather than the atmospheric, experiential images we do. We have a fabrication team as well, who build all these great models in-house, large and small. We have a very fun collaborative environment between all these teams.
Day-to-day, I work most closely with my team, which are me and three other 3D artists. The four of us work directly with the designers. We're brought in on day one when they're getting the competition brief or when they're developing the concept. Working alongside them means we know what their vision is, and we can help them with developing ideas. I think it's really important in our industry that we're not at the tail end of the process so we can produce the best collaborative result.
"Architecture has been sort of very static for so long. But now you can actually pre-visualise a space and create it virtually long before any physical construction is done."
You mentioned one of your favourite parts of what you do is research and development. Tell us about that!
A few years ago we started playing with Unreal Engine, and got VR headsets. We wanted to find tools that could really help democratize architecture. And we tried to find tools that could really help and enable design teams to use VR as well. So, we started looking at all of these rendering programs that were tailored more towards architects, like Enscape, Lumion, and Twinmotion that started incorporating VR elements into their software. It really revolutionized a lot of things, because one, it became something that designers could use without necessarily our help. So they were iterating and jumping between ideas, and approving concepts much quicker. And then two, by creating something that you can represent in VR, you can now see things in a 3D space. Architecture is all about creating space, and so when you start to represent your spaces in an actual environment, then it changes how you feel, and how you design. We started putting all the partners at SHoP in VR, and started having these design sessions inside the headset, and you could see them interacting with the space differently. They're making much more informed decisions about how things should look and feel.
From there, we realized that the VR headset was in a way very isolating and not tailored to a group conversation. There would be times when we would have a team meeting of 20 people, and you just have one person in a headset, with the rest of the team just looking at a screen.
So in 2019, we collaborated with Igloo to build a 360 projection in our office. With the 360 space, people who are not in the headset can step into the design and experience it. And at the same time, you can have someone else who's not necessarily in New York in that space, since they can put on a headset and view the same space simultaneously in real time.
We also work with the interactive visualisation team that uses our visuals in their mobile app development. Not everyone has access to VR technology, but most people have a phone, so if we can get designs onto their phone, then it really opens up communication a lot. You're no longer limited to being in front of a computer, and can show and discuss design ideas anytime you have a mobile device.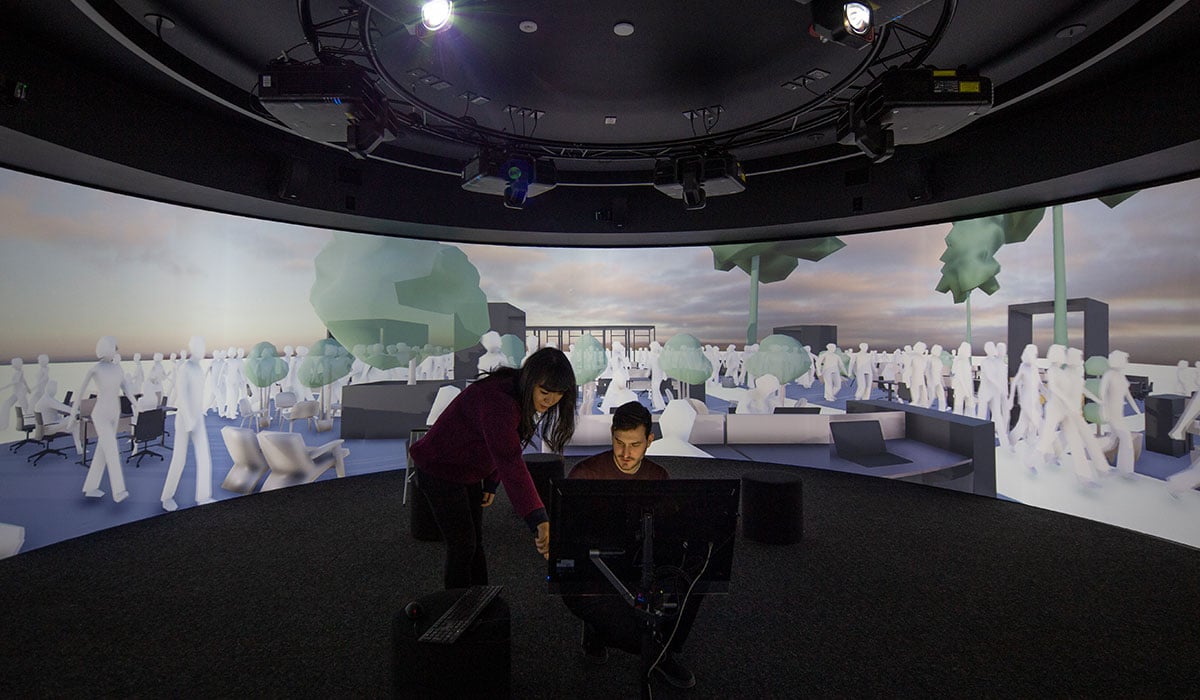 Mengyi at SHoP Architects' studio
It seems crazy that for so long such a 3D medium was designed in 2D!
I know! When I started working in 2007, we were still doing airbrush drawings and Photoshopping CAD drawings. But the technology has moved so fast, and that's why it's so exciting that the gaming industry in particular is paying attention to AEC, and being like, "Cool, this is like a market that is interested in what we're doing." We're seeing companies like Epic Games and Unity are now tailoring their tools for architecture, and the potential in those collaborations is super exciting for me.
Architecture has been sort of very static for so long. But now you can actually pre-visualise a space and create it virtually long before any physical construction is done. And we can iterate so quickly and get these environments that update in real-time.
What are you most excited about for the future?
I think we're very much at the tip of the iceberg regarding what we can do in visualisation with the technology out there. We can now get a level of photorealism with game engines, tailored to speed and efficiency, that you could not with traditional rendering. Plugins for different platforms allow us to run a model with photorealistic material and lighting in a web browser, on the phone, as a projection mapping. This diversity opens up more ways to discuss design.
One thing we love about what you do is borrow from other industries and make a real effort to see what's going on elsewhere. Tell us about that.
I do feel like very often, especially in 3D visuals like architectural visualisation, it ends up becoming a bubble. We all sort of work within the same styles, and so after a while, it becomes very homogenous in terms of the type of work that you do. And because we're an in-house architectural service, rather than a visualisation studio, we're working with much tighter deadlines. So we have to adapt, a lot. Because of those two things we like to draw from different industries and be like OK, this works for them - what are the tools that we can apply to this specific project to just get it done, instead of going through a typical industry workflow? Having a team that can work the entire spectrum from hand illustration to real-time visualisation definitely aids in that flexibility.
"I hope this technology allows us to get out of our design bubble and collaborate with the people who will eventually use the buildings we are designing and building."
How did you get to be doing this role?
I've always loved working in the fine arts and come from a family of architects and painters. I went to City College of New York and Columbia University for architecture, and was doing a lot of technical drawing and construction administration afterwards but felt a bit stuck on a track that I wasn't sure I wanted to continue on. Luckily in 2012, I had the chance to work with SHoP in this hybrid role that allowed me to use my technical knowledge while utilizing my skills in other creative disciplines.
SHoP seemed like a really great opportunity because they had just finished Barclays Center, and so, there was this crazy energy from the press and commissions coming in after that project. Everything was new and exciting - work felt like a sandbox where we could explore what we could do and see how we could grow. I had a chance to really experiment since there was no precedent in place.
What advice would you give to someone who wanted to do this role?
Know your voice too and the power of it. I am lucky to have been in work environments where I felt encouraged to speak up about how I wanted to shape my role and voice my opinion on the work I was collaborating in. I think more often than not, you get rewarded for speaking up and having a voice. If you feel like something can be done differently, definitely propose that solution. I think everybody can learn from that.
I think it's also important to utilize experience in visualisation. Not just technical experience, but also diversity experience. There is definitely a lack of representation in architecture and specifically architectural visualisation. And so, you really end up with some level of homogeneity. So the more cultures and more diverse life experiences you can draw from, the more you can start creating this more complex layering of language and of design that informs your own vision.
What is your hope for the future of your industry?
This is me being really idealistic, but it's really about technology and hardware, and how accessible it is for people. When it comes to 3D, there are a lot of tools that my office can afford, but I personally cannot afford to have in my own home. A client may be able to afford it, but the designers on their team may not. So, equalizing that is really important. It's why we've shifted a lot from VR into mobile and AR, because so many more people have access to beautiful 3D worlds in their pockets.
I'm excited about democratising access to architectural literacy. Say you give an architectural drawing set to someone, it's not the easiest thing to read. What if you made it into an interactive experience like a game and put it into the community's hands to see how they react to it and what they'd do with it? Maybe that will change the design process for the better. I hope this technology allows us to get out of our design bubble and collaborate with the people who will eventually use the buildings we are designing and building.
You can see more of Mengyi's work at mengyi.co
Follow her on Instagram at @mengyi_fan and listen to her podcast.
Learn more about SHoP at shoparc.com and follow them on Instagram at @shoparchitects and on Twitter at @shoparchitects