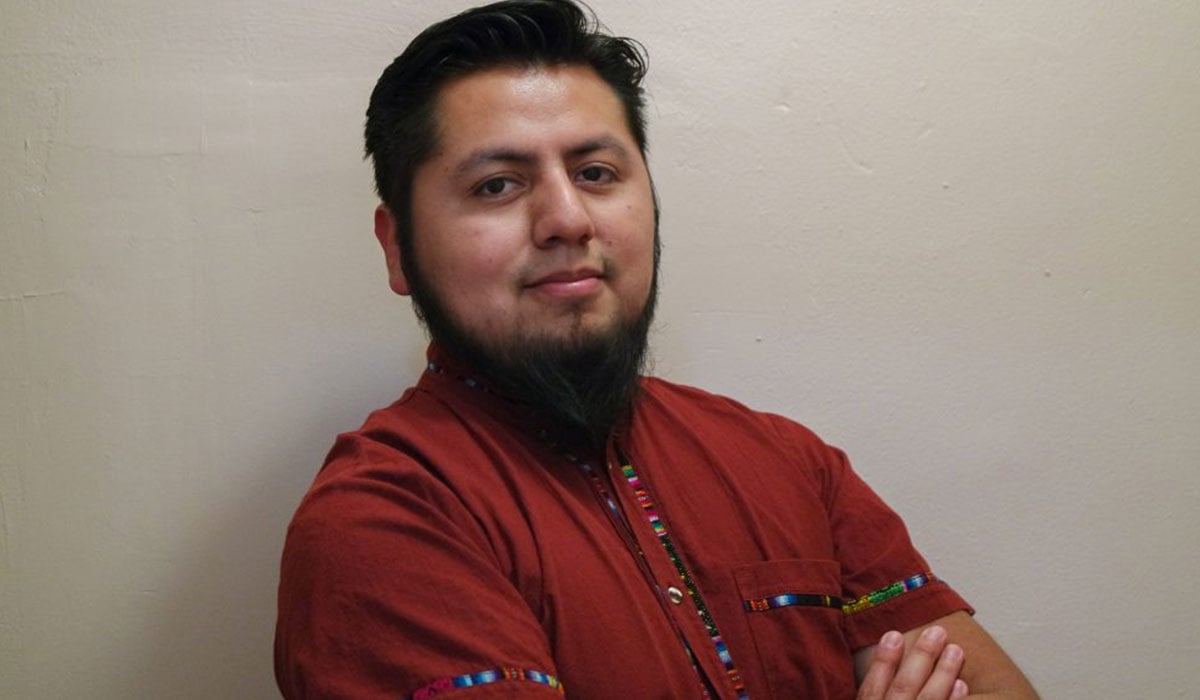 Hesi Mendez
Tell us what you do, Hesi!
I like to describe my job as a digital puppeteer. I work for Tender Claws, which provides immersive storytelling through virtual reality. One of the things that I really enjoy is manipulating NPCs (Non-Player Characters). It's like a little theater set up; I make sure that it plays nicely, and the story is told through virtual scenes.
I'm a developer, so I do programming and I do design. I also teach game design and game engines at Pasadena City College and co-founded a small company with friends after receiving a grant through Oculus Launchpad. We're creating a story-driven rapping game in VR inspired by the PlayStation 2 game, PaRapper the Rapper.
Take us back – where did your journey start?
It's a long journey! I emigrated from Mexico to the United States when I was 12 and now live in Los Angeles. Never knew what I wanted to do, which was intimidating because I had friends with their whole lives planned out.
When I graduated high school, I was choosing between composing music or programming. Initially, I went to community college and signed up for a bunch of classes, unsure of what I wanted to do. It was here that I created my first game using Java. Since it was the worst game I'd ever played, I realised that I wanted to learn how to make them correctly. Game creation combined the things I love most, from art to psychology to music to programming. I wanted to figure out how I could do it for a living.
So from there, I transferred as a computer scientist to a university in Santa Cruz. I was really bad at programming, by the way. I failed math three or four times. I tried, but things didn't click. After speaking with professor Robin Hunicke, co-founder of Funomena, I pursued game design. I thought to myself, "I want to make games that make people feel something. I want to make games that create really powerful emotions in people while they play." And from our conversations, I also started to think, "how do I talk about my experiences as an immigrant? How do I talk about my culture? How do I use games as an artistic tool in order to do this?"
My undergrad capstone project was a third-person game telling a coming-of-age story, where the teenager is learning about his culture. Through this he becomes a shape-shifter, which is a very well-known story in Mexico. At this point, I really loved Mario games and wanted to apply a similar approach to my own work. So, when professor Elizabeth Swensen asked me, "How does running and jumping represent your culture?" it blew my mind. From there, I completely changed my undergrad capstone project into a more story-driven game.
During my Masters in game design, the best advice I got was to experiment, explore and be open to new things. So for the first two years, I created small, experimental projects, one of which was an augmented reality game for teaching kids about music. In this game, you could scan little cards and if connected, musical notes would play in harmony. When separated, the notes would change accordingly. That project led me to an internship at LEGO, because it was playful and at the time they were experimenting with AR. It's also important to note that before applying to LEGO, I applied to 100 more internships and got a bunch of no's!
What was it about that project that you think stood out for LEGO?
I think it was my curiosity about what's possible with physical and digital. But also, it was the fact that what I had made wasn't really a game. It was a toy – a digital toy that had physical components in it. Aside from these two factors, it was good timing; the things I was working on were things that LEGO was exploring.
A VR project Hesi worked on
How about Tender Claws – how did your role there come about?
After LEGO, I continued working on my Masters and started teaching. I had never touched VR before until I started learning Unreal through one of my classes, which allowed me to experiment with its possibilities. I also joined this community called Latinx in Gaming, which is where I saw the role posted. I simply asked, "are you looking for interns?" They saw that I was doing experimental stuff and learning new technologies. In the interview, they liked that I also had experience with intellectual property through my time at LEGO.
So, it's your work experience, portfolio and side projects that have allowed you to get where you want to be.
Yeah, I think it's also about process, right? Employers want to see your development process so they can understand how you solve problems. So I think that's what also helped me – I try to explain, "this is the problem I had, and this is how I solved it."
"When it comes to networking, don't approach people as connections, approach them as friends. It will help you create a more authentic connection."
You're a programmer, but you are so much more than that. You've also got experience design and game development skills. Do you recommend that programmers pick up other skill sets like this?
I'm just very curious, get bored easily, and enjoy learning new things. I'm not a professional programmer, but I do programming and that helped me develop my game and my work more generally. Once I learnt prototyping and programming I could test my ideas, scratch the things I didn't like and continue developing new ones. Having a diverse skill set has also opened up more opportunities because I can package them in different ways depending on the jobs available. But I know people who are very focused and love doing one thing. So, it depends on your style of work; it depends on your personality.
Any other advice for people who are a couple of years behind you?
Have patience and persistence, and create projects with people who you enjoy working with. I've been making games with my friends since I can remember, simply because it's fun and we want to learn together. Find people who want to grow with you. Having a sense of community has really helped me because we support each other, send each other job opportunities and work on portfolio pieces together. And in interviews, it means I can also demonstrate that I've got plenty of experience working in a team.
What does the future look like for you? And what are you excited about in the future, both for yourself, and in this kind of wider industry?
I still don't know. But one of the things that has helped me progress is being open to opportunities and new technologies. For example, I have students who are like, "I want to work at X company, and this is the only place I want to work at." But there are so many other jobs around that you might not notice if you think this way. I try to ask myself, "if I don't make games, what else can I do?" So, stay open to possibilities related to your skillset.
With Tender Claws, I had to apply twice (the first time I didn't get the opportunity). I really enjoyed the things that they were making, and I was like, "OK, let's try to get better at the thing that I'm doing to help them understand my process better".
And when it comes to networking, don't approach people as connections, approach them as friends. It will help you create a more authentic connection. Start off with a genuine reason to know another person, because if it's too obvious you're simply trying to get a job out of them, it might not work out. It also makes it easier for your connections to recommend you if you have worked with them before, and they understand your process well enough to share it with someone.
You can see more of Hesi's work at hesimendez.net