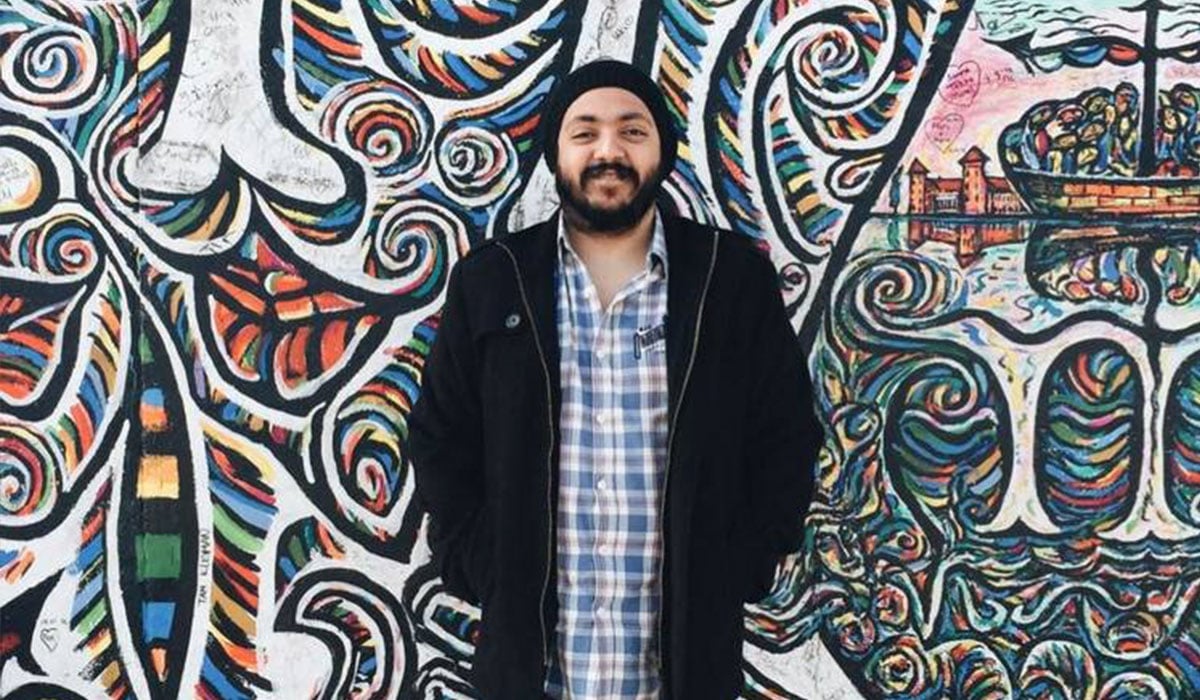 Amrit Pal Singh
Hey Amrit. Tell us about yourself.
Currently, I'm working as a 3D illustrator and an art director full-time. That involves working with clients on 3D illustrations – on a campaign they have in mind, on a website they are launching, etc. I also sell digital assets, which is basically like making my own set of products – people can just download my library and use it in their designs or their websites. My working life is about balancing these two things.
Take us back. Where did it all start?
I got interested in design through 3D itself, back in 2012. I was in India, and a lot of people were talking about how the animation industry will be doing really well in the future here. So, I enrolled in a program, learned a bit of 3D, but the animation boom never came in, so I had to pivot towards other stuff. I used to do website design and branding on the side as a freelancer. That's why I joined Vancouver film school. They had a digital design program, so I thought I'd study there and maybe find work in Canada. After I graduated I got a job as a motion designer and product designer. Eventually, I moved back to India, which has a very good start-up ecosystem where a lot of apps were being made. I started getting a lot of clients for designing apps or branding.
3D was something I was doing on the side. I started trying to create a passive income for myself with it, so I'd create design assets that designers could cheaply use for mockups. There are platforms like Creative Market, Envato where you can sell your designs. In 2018, I realized, if you do it full-time and do it well, you can make a living out of this. So I left my job as a product designer to pursue this full-time. Toy Faces was one of the products I came up with, which really got a lot of attention and love from the community.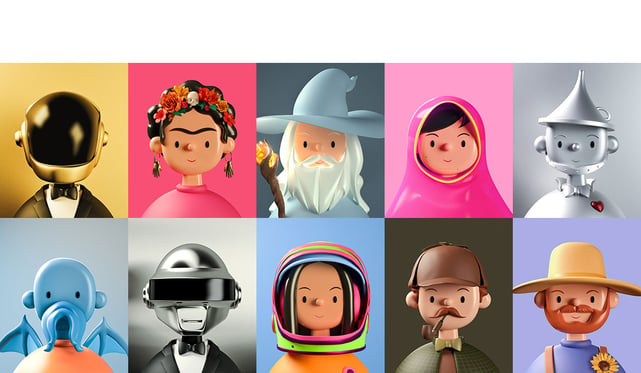 Toy Faces created by Amrit
Toy Faces has been huge for you - tell us about that project!
When I was a kid, I wanted to work at Pixar. I love making characters. I love creating pop culture references. Some of them come from my childhood inspirations, some are about current events – Daft Punk splitting up - or iconic people, like Freida Kahlo. Every month I'd be doing something new. And because it was also making money, it kept my interest in it.
I also created this whole custom Toy Face part of the project where I'd make custom assets for people. It really took off. Just a week ago I completed my 2,000th custom toy faces. There's a waitlist of a few hundred. It's really key to the project – a lot of people use them as their profile picture. When people post them on Instagram others reach out to me and say "can I get one too".
"I think anybody who has some technical knowledge or is more inclined towards the technical stuff can really thrive in 3D."
What about the work you do with clients? You've worked with some incredible brands.
I have been doing client work since I was 18. My first project was to design a menu for this tiny restaurant. I started off with tiny, tiny projects - a lot of them were for free. I think you have to start somewhere.
You have to get your portfolio done and do the grind, but eventually, if you can understand pricing and what kind of clients work for you, it can grow well. From my first project to what I charge now has been about 1000x growth for me. I make it very clear through my portfolio that I have a certain style, and you can expect this style only from me.
What are the skills someone would need to do the kind of work you do?
What I'm doing is basically called 3D illustration. To start learning 3D is definitely a bigger challenge than pursuing 2D because of the toolsets and just understanding the three-dimensional part of it takes a bit of time. 3D is more technical than 2D on any given day. In fact, I don't draw that well. I think anybody who has some technical knowledge or is more inclined towards the technical stuff can really thrive in 3D because that's where it really differs from 2D. Once you understand how lighting works, it's not dependent on your drawing skills, it's more like you understanding the environment, you understanding the space and also getting the technical hang of the software itself.
Do you spend a lot of time building your community on social media?
I do, I spend a lot of time on it. What I have learned in the last eight years is getting a project out there is 50% of the job. 50% of the job for me is to build a community around my work. It's not easy, I think it takes a lot of time. When you start off it's discouraging. On Instagram, I was lucky enough to always have some sort of following, so that kept me going. Twitter was such a dull experience because for the first one year of trying, there was no response, nobody cared I was posting. But I kept going, and Toy Faces finally started getting some followers and people started engaging. I started to understand that on Twitter you have to engage with people differently. It's really helped build a brand around my work, and a community who believes in my work and supports what I do. Sometimes I feel like I might be spamming people - you know, as an artist it's really hard to talk about your process or just constantly market your stuff, and talk about yourself. But people seem to like it, so I think I and other creators have to get over that fact, because people do want to see your process and understand it.
You don't need to be huge on social media to benefit from it though. To give an example - when I graduated, I was desperately looking for a job. I was posting everywhere and there was this tiny Facebook group, which was called New Daily Motion Graphics, and it did not even have 30 people in the group. I was like, "Who will even check this link in this group? It doesn't matter, but okay," But it was posting that link that got me a job in New York. Which was just so strange to me. You don't need a big following, because the internet, it's a strange place. You just need that one person to see your work, and it can work out for you. So keep posting, keep sharing. You never know who is watching.
So, what's next for you?
I want to just keep building my set of design assets. It gives me full creative freedom, and allows real self-expression. I want to keep exploring it. I've recently started doing NFTs too, so that has so far been really crazy and good. That's an entirely other interview …
Follow Amrit on Twitter at @amritpaldesign, On Instagram at @amritpaldesign and see more of his work at amritpaldesign.com