We spoke to award-winning author and documentarian Polly Morland, as well as our own network of experts from the fashion industry, to get insights on how best to conquer your career blocks and make real progress.
We're halfway through the year - this is the perfect time to reflect and take stock. But where to begin?
We spoke to award-winning author and documentarian Polly Morland, as well as our own network of experts from the fashion industry, to get insights on how best to conquer your career blocks and make real progress.
A good place to start is to look back at the short-term goals you set at the start of the year, as well as the longer term goals you have for your career. Are you happy with the progress you've made so far towards achieving these goals?
It's okay if you're struggling. Only 9% of people achieve their new year's resolutions, whether that's to get fit, kick a bad habit, or make real career progress.
The good news is you've still got five months to tackle your goals for the year, and expert advice is at hand to help you take stock and move forward.
So how do you conquer what's holding you back? We've listed some of the best tactics below but if you're still struggling to put these steps into practice, we can help - check your inbox next week to see how we can get you back on track.
Your confidence is always going to be shaken. We all have moments of deep insecurity and that's fine, and that's actually productive.
Mynxii White
1. Getting feedback
Asking for feedback can be intimidating, but the best feedback helps you grow, whether it's positive or negative.
The first step is to take stock and reflect on the areas where you've grown this year and where you'd like to make more progress.
What have been some of your career highlights this year? Which milestones are you currently focusing on? And what areas would you like to develop much more going forward?
To succeed in the fashion industry, you need to identify what you want for your career, and create a plan to achieve it. Ask your colleagues and collaborators, and speak to industry experts, mentors and coaches who will see what you don't see - your unique traits, areas where your creativity shines, as well as identify where you need to improve, and how you present yourself to the industry.
Only through feedback will you be able to clearly identify what's holding you back, and start taking action towards achieving your goals. Through years of working with many of fashion's most-loved artists who take the time to mentor and coach rising talent, we've seen the transformation one-to-one feedback can truly deliver.
If you'd like to have the advantage of feedback from industry experts, and direction on where your career is going, look out for a unique offer coming to your inbox next week.
2. Maintaining your goals
While your goals may be clear in your mind, maintaining your progress is not always easy. How can you keep yourself on track? Here are some strategies to help.

1. Try the SMART technique
Ask yourself:
is my goal Specific?
is my goal Measurable?
is my goal ultimately Achievable?
is it Relevant to my values?
is my goal Time-bound?
Using this method gives you clarity and detail on what your goal is and helps you track your progress toward it.
2. Know your subgoals may change
The subgoals you planned and the route to achieving your main goal may change along the way. That's okay – plans change. Don't be put off; it doesn't mean your end goal isn't achievable, it means you might need to take another path to get there. If you consistently miss your subgoals, consider a new route – or whether or not the end goal is still right for you and your career.
3. Be accountable
Hold yourself to account for achieving your goals by announcing them to others. Doing this also makes goals feel more 'real'. Start conversations about your goals with friends, peers or colleagues, so they can check in with your progress.
4. Change your habits
If you find yourself stuck turning your goals into actions, try Moodnotes or the WOOP app (Wish, Outcome, Obstacle, Plan). Use these to form proactive goal-setting habits and observe your progress, so you can overcome barriers and stay on track.
5. Be aware of your edge behaviours
An edge behaviour is an emotional, physical or mental behaviour you experience as you come up against change, uncertainty or growth. An example of this could be procrastination, or telling yourself you're not good enough. Being aware of how your behaviours shift is important because they impact your mood and your ability to move forward. Check in with your edge behaviours by recording, assessing and adjusting them so that you can adapt to change effectively.
6. Track and celebrate your successes
It's important to celebrate small wins because these incremental achievements help you stay excited about your goals. Every time you achieve something - no matter how small - write it down or make a note in your phone or planner. When you're feeling unmotivated, go through these previous successes to get perspective and boost your morale.


3. Strengthening your mindset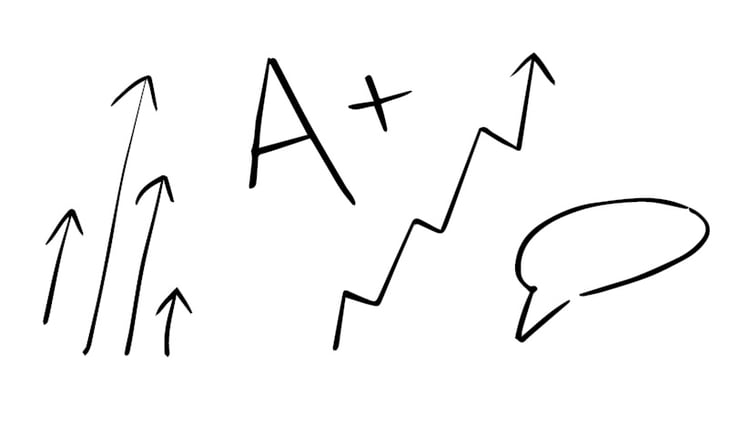 There are four scenarios that have a huge impact on our mindset towards failure. In these scenarios, you succeed or fail depending on how you respond. By owning your response to these tipping points, you clear the path for your most exciting creative moments to emerge.

Read through the statements below, so that you feel empowered to take on these scenarios with confidence as you progress in your career.


1. Taking on challenges
Instead of avoiding obstacles that might expose my weaknesses or call my talent into question, I'll turn towards them so I can learn something new. I'll be honest when I make a mistake, because the praise I might receive for hiding it won't help me improve.

2. Putting effort in
I'll keep trying when something doesn't work, because practice doesn't mean I'm stupid or lacking in talent – it means I've not mastered the skill yet. I'll be mindful not to judge others for seeming "naturally" good at something as a way to discourage myself from trying.

3. Receiving criticism
I'll pay attention to useful negative feedback, instead of ignoring it or using it to put myself down. When I get something wrong, I'll make sure that I find out the right answer or approach so that I can figure out where I can improve next time.

4. The success of others
When one of my peers achieves something I'm also striving towards, I'll counteract feelings of jealousy and defeat with the intention to learn from them. Instead of thinking of them as a competitor, I'll consider them a useful industry connection who can help me progress.
Key Points:
Take stock of the year so far and be honest about where you're at in achieving the goals you set. List the areas in which you are doing well, and those where you are lacking.

Seek feedback from industry colleagues. Positive and negative feedback are as valuable as each other. Use both to push forward in reaching the goals you really want to achieve.

Maintain progress towards your career goals using effective tools such as the SMART technique. Learn to be flexible in goal setting so that you can deal with life's obstacles.

Struggling to put these steps into practice? Mastered can help - check your inbox next week to see how we can get you back on track.